Cauterets – famous spa resort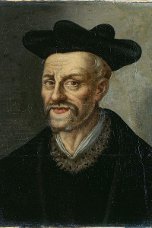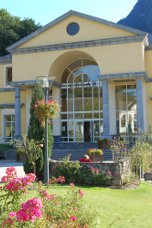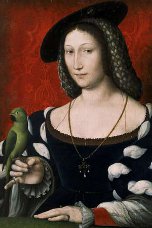 Rabelais, thermes de César and Marguerite de Navarre.
It is one of the Pyrenean resorts that has been visited the longest for its
thermal waters
. Gallo-Roman remains bear witness to the use of hot springs in
Cauterets
.
In the 14th century, Gaston Phoebus - Count of Foix and Viscount of Bigorre - came here to treat his deafness. In the 16th century, the resort of Cauterets enjoyed a great reputation. Marguerite of Navarre, Catherine of Medici and Rabelais were the first of a long line of celebrities to come to
Cauterets
to "take the waters".
Crown heads of Europe made
Cauterets
.Cauterets their summer residence. Their royal highnesses of France, Monaco, England and Spain – princes, princesses, dukes, duchesses, marquis, marchionesses, counts, countesses and emirs - were the resort's prestigious occupants. The who's who of the artistic world wanted to be seen in Cauterets: Chateaubriand, Victor Hugo, Sarah Bernhardt, Mistinguett, George Sand, Alfred de Vigny, Eugénie de Guérin, Count Saint Saëns, Edgar Degas, Maurice Chevalier and many others visited Cauterets. The political elite - Talleyrand, Alphonse Thiers and Léon Blum – held meetings here with the ambassadors of neighbouring countries. In 1858, Bernadette Soubirous
visited Cauterets
for the first time to treat her asthma. The Virgin Mary was kind enough to suspend her appearances (between the 17th and 18th) while her visionary took a
thermal cure
. She had two other
stays
in
Cauterets
.
These famous occupants moulded Cauterets, and many sites bear witness to their presence.
Today, the
thermal baths
have been renovated and still bestow the benefits of their rich mineral waters with their undisputed
therapeutic properties
. The current enthusiasm for
thermal cures
and natural therapies has made
Cauterets
a popular destination. ENT, respiratory problems and rheumatology are the therapeutic focus in
Cauterets
.
From deep within the earth,
Cauterets' thermal waters
emerge at a temperature of 53° to 60°. They are rich in oligoelements, silica and sulphur, which make treatments more effective and successful.
At the Thermes de César (César thermal baths), the Health Spa with its thermal waters offers a full range of cures and treatments (whirlpool bath, massage, etc) to enhance your beauty, vitality and wellbeing
Cauterets is the number one spa resort in the Hautes-Pyrénées.
New thermo-leisure centre in Cauterets
In 1861, the Le Rocher spring was harnessed and used in the old Etablissement du Rieumiset. The Thermes du Rocher (Le Rocher thermal baths) were built on the Larramiau property by Joseph Bordenave in 1863.
Cauterets
' Cauterets' water company, owned by Benjamin Dulau, bought them in 1867, thereby bringing together 3 of the Groupe Nord's springs.
In 1880, Benjamin Dulau refitted the
Etablissement Thermal
), which were then named the NEOTHERMES of César and Le Rocher.
In 1901, Benjamin Dulau sold the NEOTHERMES to the Syndicat de la Vallée de St Savin.
In 1960, they were refurbished and the Pavillon Itard was incorporated. Specific facilities were created for children. The complex was then named "Thermes du Rocher – Pavillon Itard". ».
In 1984, a final phase of work doubled the size of the area reserved for children, and modernised and refurbished the facilities.
Since June 2010, the Vallée de Saint-Savin combined district council offers you the new
Centre Thermoludique de Cauterets
.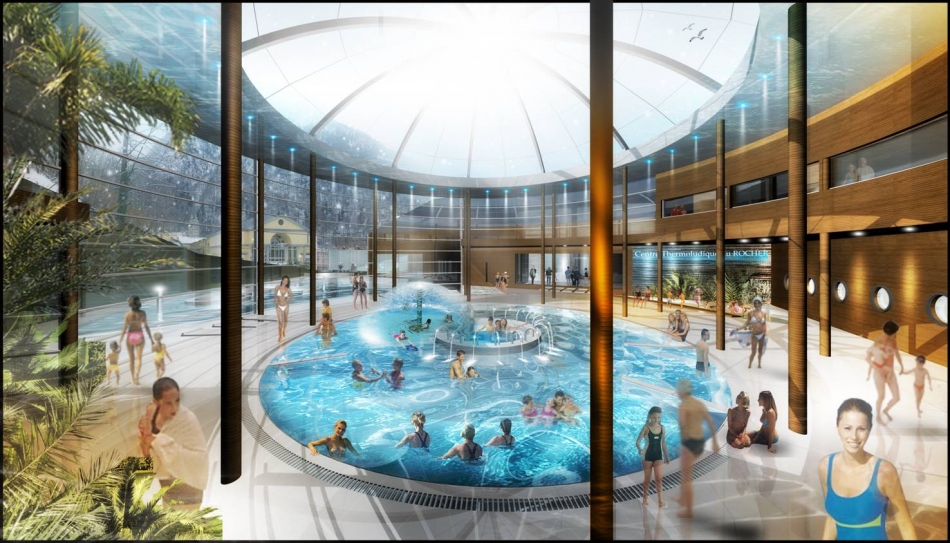 Interior pool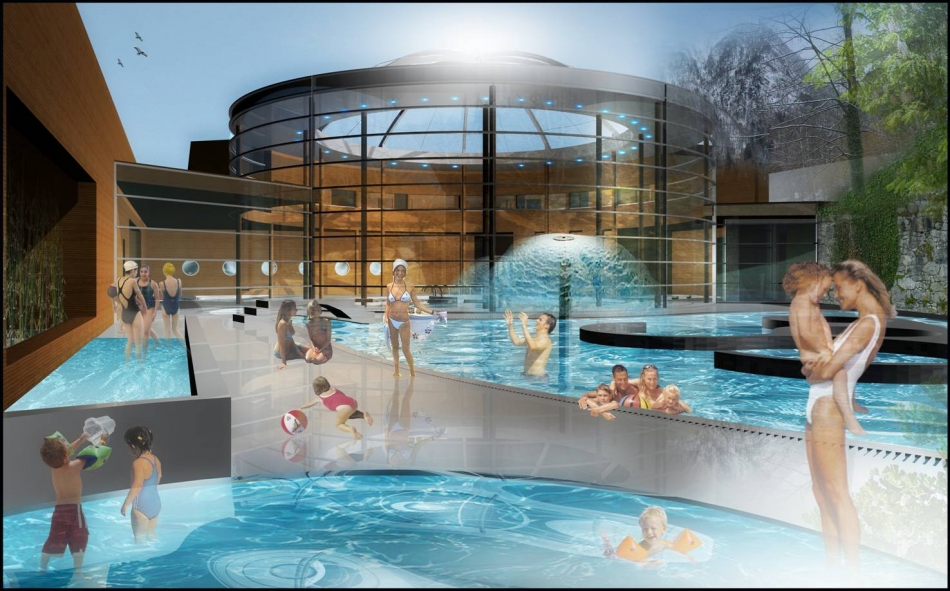 Outer pool